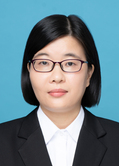 姓名:林如琴

职称:首聘副教授
性别:女
所属单位:生物化学系
E-mail: linruqin@scau.edu.cn
办公室:生科院南楼305
个人简介:
2020年6月毕业于华南农业大学生物化学与分子生物学专业,获理学博士学位。2020年6月至2022年6月在华南农业大学进行博士后研究。2022年7月入职华南农业大学生命科学学院真菌毒素研究团队,主要从事真菌毒素毒理及致病机制研究。
研究方向
真菌毒素的肠道毒理机制研究
主持及参与的科研课题
1. 国家自然科学基金青年项目,主持
2. 中国博士后科学基金,主持
3. 国家自然科学基金面上项目,参与
4. 岭南现代农业科学与技术广东省实验室科研项目,参与
科研奖励
第十二届大北农科技奖创新奖,饲料中常见霉菌毒素的分子毒理与生物防控. 邓诣群,蒋珺,文继开,母培强,汪玲玲,吴骏,林如琴,陈庆梅,邓凤如,孙峪.
发表论文
1.Lin R, Li D, Xu Y, Wei M, Chen Q, Deng Y, Wen J. Chronic cereulide exposure causes intestinal inflammation and gut microbiota dysbiosis in mice. Environmental Pollution. 2021, 288:117814.
2.Lin R#, Xiao M#, Cao S#, Sun Y#, Zhao L, Mao X, Chen P, Tong X, Ou Z, Zhu H, Men D*, Li X*, Deng Y*, Zhang X*, Wen J*. Distinct gut microbiota and health outcomes in asymptomatic infection, viral nucleic acid test re-positive and convalescent COVID-19 cases. mLife. 2022, doi: 10.1002/mlf2.12022.
3.Lin R, Sun Y, Mu P, Zheng T, Mu H, Deng F, Deng Y*, Wen J*. Lactobacillus rhamnosus GG supplementation modulates the gut microbiota to promote butyrate production, protecting against deoxynivalenol exposure in nude mice. Biochemical Pharmacology. 2020,175:113868.
4.Lin R, Sun Y, Ye W, Zheng T, Wen J*, Deng Y*. T-2 toxin inhibits the production of mucin via activating the IRE1/XBP1 pathway. Toxicology. 2019, 424:152230.
5.Li D #,Lin R#, Xu Y, Chen Q, Deng F, Deng Y*, Wen J*. Cereulide Exposure Caused Cytopathogenic Damages of Liver and Kidney in Mice. International Journal of Molecular Sciences. 2021, 24;22(17):9148.
6.Sun Y, Jiang J, Mu P, Lin R, Wen J*, Deng Y*. Toxicokinetics and metabolism of deoxynivalenol in animals and humans. Archives of toxicology. 2022,96(10):2639-2654.
7.Sun Y, Zhang M, Ou Z, Meng Y, Chen Y, Lin R, Hashim J, Hashim Z, Wieslander G, Chen Q, Norback D, Fu X.Indoor microbiome, microbial and plant metabolites, chemical compounds and asthma symptoms in junior high school students-a multi-center association study in Malaysia. European Respiratory Journal. 2022,2200260.
8.Lin R, Zhang Y, Long B, Li Y, Wu Y, Duan S, Zhu B, Wu X*, Fan H*. Oral Immunization with Recombinant Lactobacillus acidophilus Expressing espA-Tir-M Confers Protection against Enterohemorrhagic Escherichia coli O157:H7 Challenge in Mice. Frontiers in Microbiology. 2017, 8:417.
9.Lin R, Zhu B, Zhang Y, Bai Y, Zhi F, Long B, Li Y, Wu Y, Wu X*, Fan H*. Intranasal immunization with novel EspA-Tir-M fusion protein induces protective immunity against enterohemorrhagic Escherichia coli O157:H7 challenge in mice. Microbial Pathogenesis. 2017, 105:19-24.
10.Ye W, Lin R, Chen X, Chen J, Chen R, Xie X, Deng Y*, Wen J*. T-2 toxin upregulates the expression of human cytochrome P450 1A1 (CYP1A1) by enhancing NRF1 and Sp1 interaction. Toxicology Letters. 2019,15;315:77-86.
授权发明专利
范宏英,林如琴,吴娴波,龙北国,张益多. 一种EHEC O157:H7重组嗜酸乳杆菌载体疫苗及其制备方法和应用.